The Gaff Rig Page

Detail Pages
The Gaff
Revised 06/30/00
Ah, the gaff, the reason it is called a gaff rig after all is the gaff itself.
The page on the Great Peak Halyard Controversy includes more about attaching the peak halyard to the gaff, but for the purposes of this page, I want to focus on the construction of the gaff itself.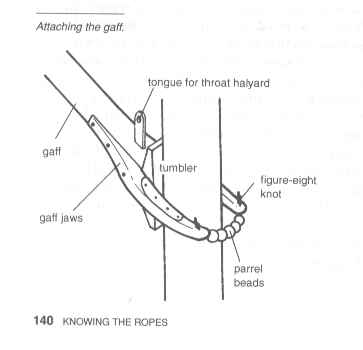 Here's a detail of the gaff attachment to the mast. I've seen a few variations on this theme, but all include the gaff, the gaff jaws, and the line from jaw to jaw to keep the gaff on the mast (in this drawing, the line has parrel beads on it.)
The parrel beads and tumbler are not always seen on small craft, although you do need a parrel line, at least, to keep the jaws on the mast. But the stresses are smaller on sails under 200 square feet, and the tumbler is not needed to spread out the stresses on a larger portion of the mast. Usually, the jaws are either greased or lined with leather (or both) to prevent scoring the mast.

Note the use of a strop around the gaff for the throat halyard rather than attached to a fitting in the illustration above.


Here's a fine example of a small sailboat's gaff, with a tumbler and attachment fitting for the halyard.